August 22:
Amy's surprise (sort of) going away party. A few of us early birds got to Jessica's house early to prep for the party. We also went out to the dollar store to grab some balloons and cool stuff. And then spent the rest of the time pretty much eating all the food that supposed to be for the party while waiting for Amy to arrive. After Amy came, the surprise was not really much of a surprise because Amy already had suspicions but when do these things ever work out! Oh well! We spent the rest of the party eating and gossiping and just hanging out until it got dark. Then Desiree & Megan busted out the CARAZY cake they made Amy. It was nuts. People gave me all the little blue whale candies on the sides of the cake because I like whales, teehee. We ended the night at Jessica's house with a group picture (minus the guys who left earlier, 2 guys outta how many girls? I'm not surprised they left haha) and then half of the group left and the rest of us went on another one of our adventures! They're the best!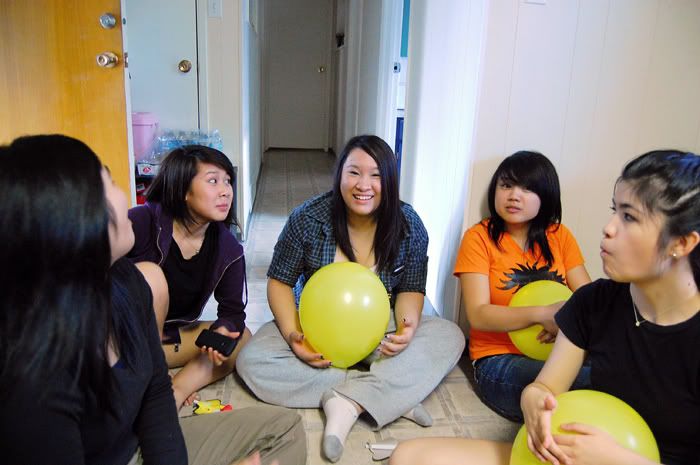 The friggin' amazing cake Megan & Desiree made Amy. Too pretty to eat!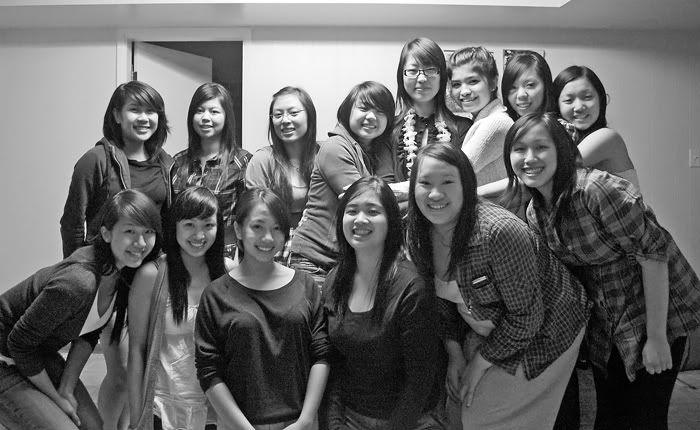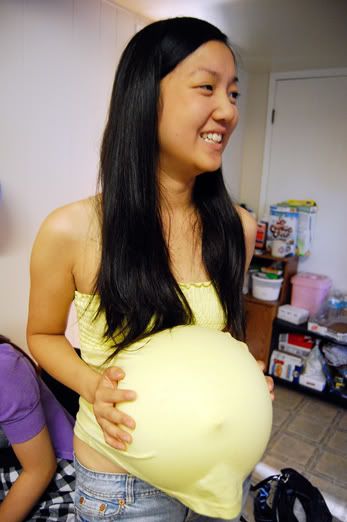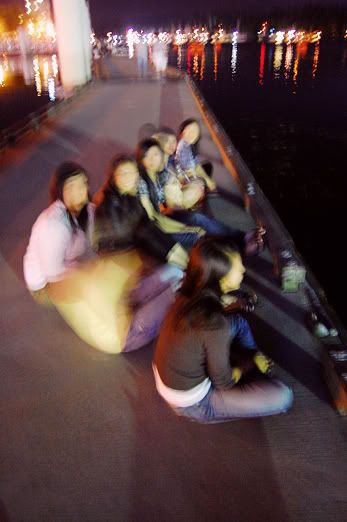 We decided to drive out to Stanley Park in Amy D's car. But first, we went to Coal Harbour. I was like "Hey! I was just here yesterday!" and I was, with Wilson, albeit in the daytime. But that place is gorgeous at night. Wow! It was so nice to just sit out on the dock with everyone, looking at the lights and stars.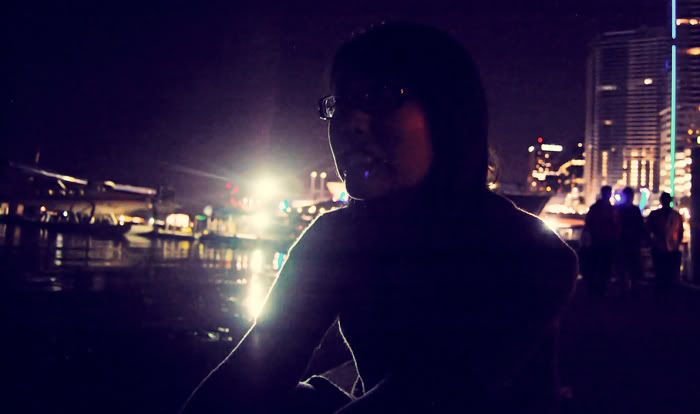 Then we went on to Stanley Park. That drive was so hella scary! The look of high beams on a bleak road of dark forest and turns, not knowing what could pop out at you at any given moment, scares the hell out of me! Amy was terrified to drive by the time we started going through the winding pathway of trees and darkness and empty road so Desiree took over. We stopped a few times where a couple of brave ones (YEAH, THAT'S ME!) got out of the car to take in the sights and take pictures. This one time, we stopped at the lighthouse and a few of us hung out outside for a bit while I took my long exposures. We were just talking and everything and then out of nowhere, Desiree goes " Someone died here." Needless to say, they all went screaming and running back to the car and left me there because I was in the middle of a 30 second exposure and couldn't move! Kind of jerkish and kind of hilarious.
Along the way, Desiree told us scary details about whatever we happened to be driving by. We also drove by the best view of the Lions Gate Bridge! It was a-mazing because it was from the straight on view of it in the direction of the cars - a point of view you never really get to see unless you're on the bridge itself. But I was too wuss to get out of the car to get a picture of it but it was awesome. I would love to get a picture of that view at night sometime (definitely not alone though!).
After we got out of Stanley Park, we had to go through Hastings to get outta there and we joked that Hastings was the last memory Amy was going to have of Vancouver, haha. Then we took Amy home where it was the last time we would see her for several months until winter break. It was the filled with lots of hugs and tears. I didn't think I would cry but it just came and I didn't stop until Des dropped me off at home.
Later on, when we were at home, Emily asked if I wanted to go see Amy at the airport before she got on her flight so of course I said yes! I had a few hours to kill until 4am, which was when we would head off to the airport because Amy's flight left shortly afterwards. We got to the airport too early so we thought we'd go out to find somewhere to eat first. The rest of this story ends badly with coming back to the airport after not finding anywhere to eat, thinking we still had time until Amy came and going all the way to the other end of the airport to Tim Horton's, then walking back to the check-in station for Amy's flight, sitting and waiting for a bit until we realized that Amy had already gotten on her flight and we literally missed her by 10 minutes even though we were in the vicinity. So that's that & the last time we saw Amy really was outside her house. But we'll see her again soon!!! Good luck in LA!