CAN YOU BELIEVE I'M FINALLY CAUGHT UP WITH ALL MY PREVIOUS BLOG POSTS?! I am finally blogging to you in real time again. The term finally ended as of yesterday and seeing as I haven't had the time or energy to take any pictures or write these last few months, I'll just give you a summary.
My first term at SFU was probably the most disappointing event of my life. Besides my great Biology class, I felt like I was just cramming more and more information into my head that was already maxed out. Physics was the worst one. I understood
nothing
and I'm 99% sure I failed it unless some kind of ridiculously massive scaling happens. The prof didn't teach you anything you actually needed to know, the homework was irrelevant and unfair, the textbook was useless, and the TA could hardly speak English. School was just this neverending cycle of consuming information (or I should say, being consumed by information) that couldn't be processed and couldn't fit. And if it didn't fit, well, then you better fucking make it fit otherwise you're fucked and no one can help you on that one. It was sick. I hate the feeling of working just for the sake of having something down on paper to hand in and leaving the fate of your grade to luck & a lot of scaling no matter how much you think you know your stuff. It really made me sick - just disgusted at the system universities function on. I had superiorly better teachers & better organized curricula in high school, free education, than here. I've come to realize that I was not made for higher education at all.
As if learning itself wasn't enough, I also had a little accident in November that involved Chemistry, a bench, loss of consciousness, and some teeth. I should probably spare you the details but at least now I have a great icebreaker story. "HEY, did I tell you about the time I broke my face?!"
I also joined several clubs at the beginning of the year including Ballroom Club which I quickly booked it out of once school started giving me a mindfucking and when I couldn't stand this annoying new acquaintance in the club anymore. Donald & I met Jonathan & Michelle in our Biology lab and I definitely owe it to them for making the labs and lecture and studying not so much of a pain in the ass. We had lots of fun times and priceless funny moments. Thanks guys! We are all unfortunately off in very different directions next term so I'll miss our ridiculous antics very soon!
Here is my tentative schedule for next term: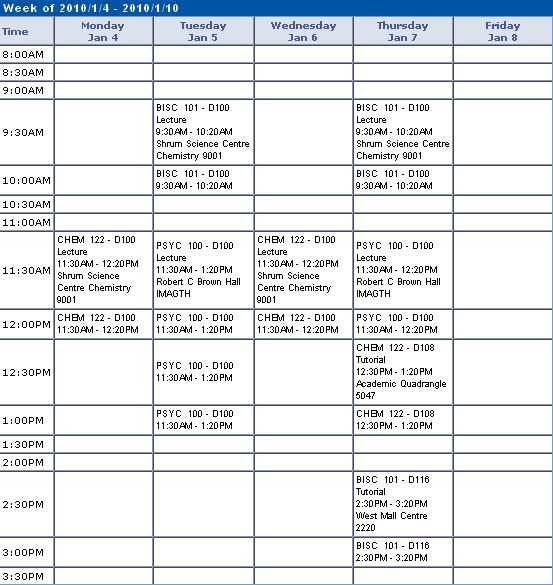 Now that school is over for a few weeks, I finally have the time to do all the things I haven't been able to do! I'm super excited for this break and I really just want to take it slow and do all the things I actually love. Here are some of the more pressing things I'm hoping to accomplish this break:
Brand my prospective photography business

Design a logo

Make some crafty things from my list of ideas

Re-design my blog

Make & sell some prints

Design a portfolio site (a hefty project!)
And of course, see Willie & all my friends!!!