A few hours late but I managed to put together a collection of 2009! While going through all these pictures, I was amazed at how much I actually did this year.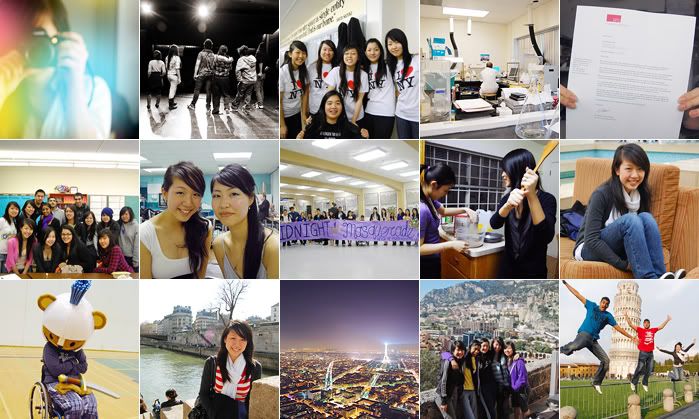 This year, I continued working with Student Council with all our events, notably the clothing drive fashion show, Midnight Masquerade, and the pep rally. We had our really rough times especially near the end of the year, but overall, I think we hyped up the presence of Student Council a lot at our school. I also completed my work experience term at CanTest Laboratories, got my admission letter from SFU, worked with a semi-failure of a Grad Committee, celebrated Amanda's birthday with a birthday-turned-make-up party, and watched Slumdog Millionaire. Not to mention, I got to travel to the most incredible place - Europe! I still can't believe I was actually there. We traveled through Paris, Cannes, Montecarlo, Monaco, Nice, Pisa, Montecatini, Florence, Venice, Verona, Milan, and everywhere in between. We shared so many memories here that we'll never have again. There's something about spending 11 days with the same group of people, 24 hours a day, that builds some strange and magical bonds between everyone in the group. I haven't had enough of Europe yet and I can't wait to go back!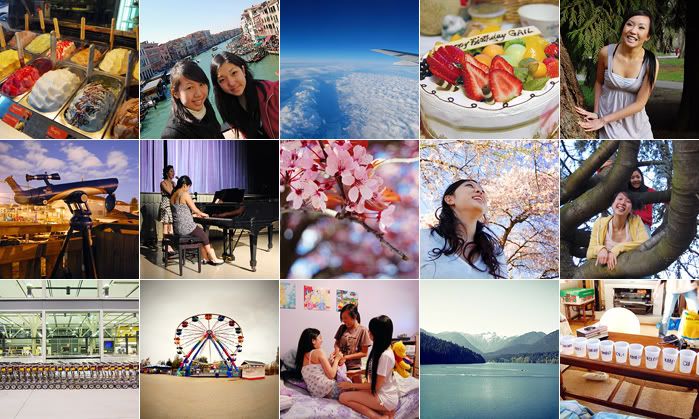 This year, I turned 18 and I still look like I'm 10. I had my first photoshoot with Mary which opened up a whole new side of photography for me. I also sucked it up and did what I had told myself I'd accomplish when I was in maybe grade 10 - I danced in the Grad Showcase. It was definitely not the brightest idea I've had and I probably made a fool of myself but it's what I told myself to do before I graduated so I did it. There. We took Emily out for an impromptu photoshoot where we were really just dicking around and had a lot of fun being our weird selves and having good times! I was reacquainted with Wilson from the previous year and I joined in on their photo trips - the first of which was to YVR and our next trip was to the Grouse Grind. Our Physics 12 class had our annual Playland trip which was mostly a photo op because I'm not a fan of the scary shit-your-pants-fall-off-crack-your-head-open rides at all. And all the girls had more get-togethers at Mary's and at Kathy's.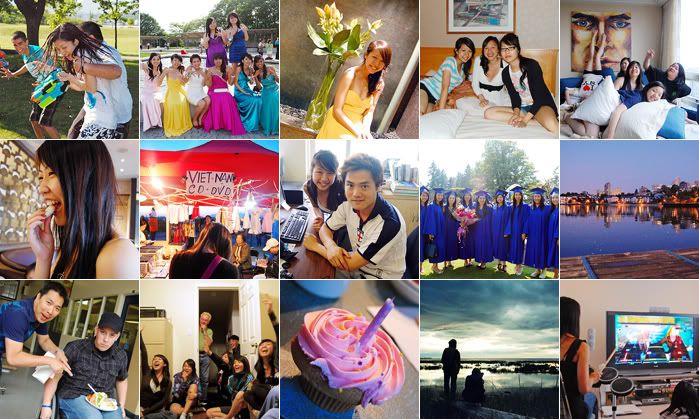 Amy & Desiree planned a grad get-together at New Brighton Park which was wonderful! And then... we freaking graduated. Prom came hurtling at us and with that, also came the afterparty and our weekend at the Sheraton. Commencement then yielded nervous jitters, a sense of exhilaration, and a wonderful dinner & special spot sharing afterwards. Project Graduation was a mass of fun and definitely something we'll never ever be able to have again. We also celebrated Amy's birthday and prowled the nightmarket like I never thought I would ever willingly want to do. Student Council had their last of get-togethers at the staff luncheon and at Costa's house. We celebrated Julia's birthday and I was introduced to the world of Rockband for the first time. We had another photo trip, this time to Steveston and then around Richmond with Mr. Tam. I had a re-acquaintance with Rockband when our summer crew started hanging out regularly over the summer. You take several of the most unlikely friends, throw them all together to hang out all summer, and you get all kinds of lazy wonderful.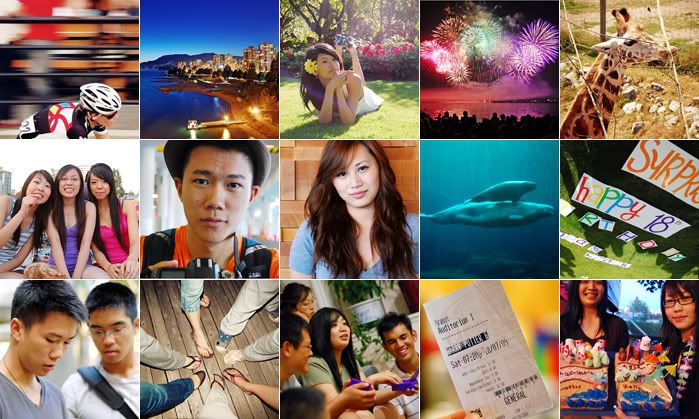 Summer marked the start of awesome. Wilson & I got together and we started a series of adventures. We went to the Yaletown Grand Prix on Canada Day where I panned cyclists for the first time and watched the fireworks from the Burrard Street Bridge. We had awesome photoshoots with Kathy at QE and then Holly around Waterfront. Wilson joined all of us for the HSBC Celebration of Lights Canada fireworks which were absolutely magical, especially because the early birds nabbed us a fantastic spot on the beach. We had another photo trip to the Greater Vancouver Zoo & Pitt Lake which were highly disappointing and held on one of the hottest days too. We went for a round two of fireworks when we watched the China display which was partly ruined by the potheads in front of us and the inconvenient spot we decided to take on the beach. Wilson & I also took a trip to my old love, the aquarium! A whole bunch of us surprised Leanh & Vanda with a birthday party at Kathy's house which became ridden with pukers by a mere 9pm. Our next photo trip was to Whistler & then British Properties by night which wasn't so great for pictures as it was just for hanging out and fun times. The girls started our night adventures to QE Park at night where we scared ourselves silly. Our summer crew continued hanging out over Rockband and Taboo. Wilson & I watched Harry Potter and the Half-Blood Prince when it came out which can't ever turn out to be a bad thing. We also held a surprise going away party for Amy before she left for LA. Tears!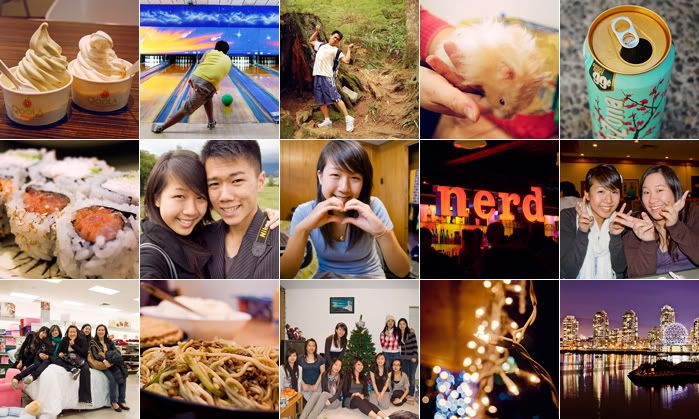 Wilson & I road the Canada Line, went for a really nice walk at Lynn Valley, toured Emily Carr, went to the H.R. MacMillan Space Centre, went to Anita's birthday party, went to Bright Nights where I froze all my body parts off, and had our fantastic Winter photo trip to Olympic Village. Everyone else went for some bowling & bubble tea, a BBQ at Raymond's house where I met Tofu, had Thanksgiving dinner at Swiss Chalet, and went for sushi at Kingsway Sushi with just the girls. I also went for my first haircut since a few years ago. I struggled through my first term of university and then everything became wonderful again once winter break began and Amy & Julia came back home. We had our Christmas dinners and spread love all around.
So many more things this year happened that weren't pictured, including my 3 weeks of dance intensive at Harbour Dance, many more Wail adventures, many more chill times with friends, when I lost my two front teeth, and all the killjoys university brings with it.
I think 2009 was my favourite. I got so much closer with my friends and met many more new ones. I traveled to amazing Europe with great people. I found a boy to love. I watched the best meteor shower ever. I left high school and everyone in it and started a new life at university. I danced my heart out this summer. I conquered fears & accomplished many of the goals I set to be completed before I left high school. I had countless adventures and fun times. I took a heck of a lot of pictures. Yeah, I think I lived this year to the absolute fullest. No regrets whatsoever!
Happy 2010! May this new year bring even more memories and friends and love and joy and happiness!