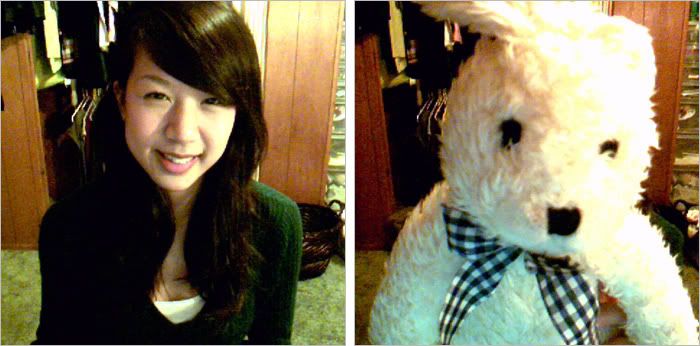 I don't think my bunny Bill has ever made an appearance on my blog before. Here he is! When I have a job and my own home, I'm going to adopt a real bunny and name it Pikachu. Just kidding. But I want a bunny for sure, seeing as I can't keep a whale as a pet or cuddle with them either.
I made a formspring today because that's what all the trendy people on the internet are doing. If you don't know what it is, it's pretty much just where anyone can ask you about anything or get in contact with you without using email. I don't know why anyone would want to know anything in particular about me but
here it is
!
Yesterday, Wilby & I went to Ikea because he had to look at lights for his project. I ended up leaving with a paper desk shelf thing, a laundry hamper, and a lightbulb. I can't seem to stop spending money as of late. :/ But I LOVE Ikea! I wish I could redecorate my whole room!
My post about Wednesday's photo session will be up as soon as I finish editing the pictures and finish this week's worth of schoolwork! My last midterm is on Thursday! Hallelujah! But final exams proceed shortly after. :( Please be over soon, school!