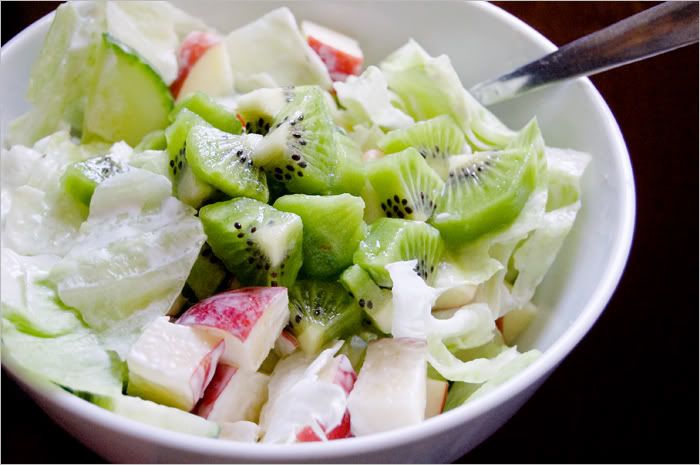 Salad with iceberg lettuce, cucumber, gala apple, kiwi, and ranch dressing. Am I the only one who's tongue feels really weird after eating kiwis?
My internet at home is broken so I've been staying at school for too long, in my opinion, to get all my online homework, internet, and blogging done. Class is actually surprising alright so far. We've been learning about optics in physics and we've had some homework due and had a quiz last week and it's been pretty good. I hope I didn't speak too soon. I just keep forgetting to go to my tutorial.
I've applied to be an animal care volunteer at the Wildlife Rescue Centre in Burnaby. I have an information session this Sunday and then hopefully an interview after that. If I can do well at the interview and they have room for another volunteer, then I'll be volunteering there once a week taking care of rescued & injured animals! I'm really excited and I really hope I can get the position. It would be a huge stepping stone into my future career if I decide to go into animal biology or some sort of conservation or marine biology field. The job descriptions I read for jobs I'd like to pursue more often than not require some sort of animal care experience.
I also applied for co-op. I don't intend to start co-op until next summer or fall but you're required to apply for the program at least 2 semesters ahead of time so I thought I'd do it now. I have a bunch of orientations and workshops in the coming days and I skimmed through some paperwork just now. Aaah!